Like An Ever Flying Limb cover art and press release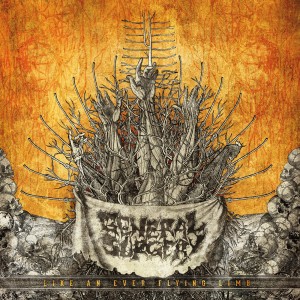 Before we leave for the festival shows next week, we thought we'd treat you to the cover art of the upcoming 7″ EP "Like An Ever Flying Limb".
Press release from Relapse follows:
GENERAL SURGERY – To Release New EP; Announce Tour Dates
Swedish goregrind legends GENERAL SURGERY will release a brand new 7" EP entitled "Like An Ever Flying Limb" this fall via Relapse Records.
The limited edition EP contains 5 new tracks of the band's gut-splattering gore and was recorded in October 2011 at Audiogrind Studio in the band's hometown of Stockholm.
A release date will be announced shortly while the cover art is available for preview now at this location.
The band's Dr. Carlsson commented on the upcoming release:
"These five splatter dripping tunes are designed to deeply disturb all mere mortals, be
it the poor departed in the bowels of the morgue or some unfortunate soul
catching us playing live during the festival season.Please hold on to life and limb."
Additionally, the band has announced a string of festival appearances plus rare UK club shows including Czech Republic's Brutal Assault, Germany's Party San, and Denmark's Kill-Town Deathfest. A complete listing of dates is available below.
Earlier this year saw the release of A Collection of Depravation, a compilation of 30 GENERAL SURGERY choice cuts digitally remastered by Pig Destroyer's Scott Hull.  The album is currently available for streaming in its entirety here.
The band plan to record their long awaited 3rd full-length album in the near future.
GENERAL SURGERY are available for interviews upon request.  To get in touch with the band, simply contact bob@relapse.com.
Stay tuned to www.RELAPSE.com and the official GENERAL SURGERY website and Facebook page for the latest GENERAL SURGERY information.
GENERAL SURGERY TOUR DATES:
Aug 9               Jaromer, Czech Rep                 Brutal Assault Open Air
Aug 10             Schlotheim, Germany               Party San Metal Open Air
Aug 31             Växjö, Sweden                         Uffes Källare
Sept 1              Copenhagen, Denmark          Kill-town Deathfest
Oct 13             London, UK                             The Black Heart
Oct 14             Bristol, UK                              The Croft