A Collection of Depravation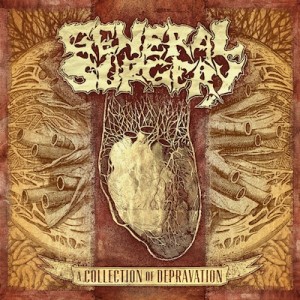 We finally got around to releasing one of the most requested items in the history of the band: all of our split releases on one CD – "A Collection of Depravation".
Release date is March 27th.
Contains the out-of-print splits with The County Medical Examiners, Filth, Machetazo, along with plenty of unreleased material from the Left Hand Pathology sessions, the Butcher ABC split sessions and the Corpus In Extremis sessions. To top it off, we've added the Carcass cover we recorded back in 2001 as a bonus track.
30 oozing cuts in all, plus a 24 page booklet with extensive liner notes. Also, all songs have been remastered by Scott Hull from Pig Destroyer for maximum audio fidelity.
Track list:

1. Pre-Bisectal Corrosive Immersion
2. Lab Rat
3. Mortuary Wars
4. Cauterization Frenzy
5. Reception of Cadavers
6. Decomposer
7. Convivial Corpse Disposal Methodology
8. Foetal Mush (Xysma cover)
9. Unruly Dissection Marathon
10. Scalpel Infestation
11. Fully-Mechanized Corpse Thresher
12. The League of Extraordinary Grave Robbers
13. Necrodecontamination
14. Forensic Farce
15. Viva! Blunt Force Trauma
16. Cold Storage Fever
18. Autopsy Induced Amnesia
19. The Day Man Lost (Carnage cover)
20. Deadhouse
21. Decedent Scarification Aesthetics
22. Idle Teratoma Core
23. Restrained Remains
24. Maggots In Your Coffin (Repulsion cover)
25. Carbonic Residue Conversion
26. Nephroblastoma
27. Excessive Corpus Delicti
28. Pre-Bisectal Corrosive Immersion (2008)
29. Lab Rat (2008)
30. Empathological Necroticism (Carcass cover)
"A Collection Of Depravation assembles all of legendary Swedish goregrind outfit General Surgery's out of print singles, vinyl only eps, comp appearances and a few unheard demos into one filthy CD collection. Spanning close to two decade's worth of material A Collection Of Depravation is a headbanging gallop sure to satisfy the most bloodthirsty goregrind fanatics."
Pre-order it from the Relapse web store.