Celebrating Necrology at Kulturhuset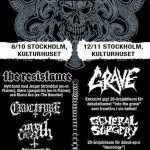 We're celebrating the re-release and the 20th anniversary of the Necrology EP on Saturday November 12 at Kulturhuset, Stockholm.
Also on the bill are Grave who are playing their legendary first album in its entirety, along with Vicious Art who are playing their final show.
Expect a Necrology-heavy set from yours truly plus maybe a some new treats. We'll see what happens.
Event: http://www.facebook.com/event.php?eid=231729523531512
Tickets: https://event.webbiljett.se/kulturhuset/step/chooseSeatU.aspx?seId=1883