"Necrology" EP re-release, June 2011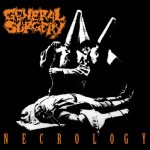 Here's the press release from Relapse Records:
"For Immediate Release

GENERAL SURGERY: 'Necrology' To See Official Re-Issue

Relapse Records will re-issue GENERAL SURGERY's 1991 debut EP Necrology this June. The long-out-print EP has been completely remastered by Scott Hull and repackaged with three previously unreleased bonus tracks. The Necrology re-issue will be available on June 21st on CD and digitally and is up for pre-order now at this location.

GENERAL SURGERY, one of the first bands to carry on along CARCASS' gore-grind path, formed in 1988. After releasing Necrology, the band was mostly inactive until 2003 when they began recording and touring again."
Not only will the EP be re-relase on CD with bonus tracks (all three songs from Demo 2 1990), the same tracks will also come out on a limited 10″ vinyl later in the year.
Tracklist:
Ominous Lamentation
Slithering Maceration of Ulcerous Facial Tissue
Grotesque Laceration of Mortified Flesh
Severe Catatonia in Pathology
Crimson Concerto
The Succulent Aftermath of a Subdural Haemmorhage
An Orgy of Flying Limbs and Gore
Bonus tracks from "Pestisferous Anthropophagia", Demo 2 1990:
Slithering Maceration of Ulcerous Facial Tissue
The Succulent Aftermath of a Subdural Haemmorhage
Grotesque Laceration of Mortified Flesh