Celebrating 20 years of Necrology at OEF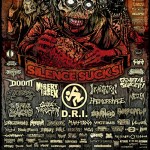 The 20th year celebration of the Necrology EP goes on and we have decided to perform it in its entirety at Obscene Extreme Festival for all you demented splatterfreaks out there.
This is only the second time this has happened, and will most likely be the last for a long time so don't miss out!
The Obscene Extreme crew has asked us for a short meet and greet session and of course we are down with that. Immediately after our set (21.35 – 22.35 on Thursday July 15th) we will set up next to the stage and we will be there for an hour or so.
So bring your decayed limbs, assorted body parts, money, cameras and/or special editions of your favourite General Surgery stuff and whatnot.
In turn, we will bring you the latest news in Swedish gorefashion, as well as blood, corned beef, CDs and LPs for those interested in spending your hard earned cash on us.
See you in the gore!