Corpus In Extremis LP release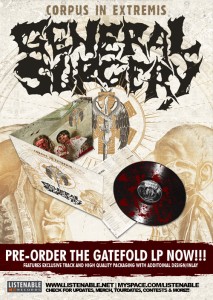 Finally! Corpus In Extremis on vinyl, sounding just as good as we expected. Contains the bonus track Excessive Corpus Delicti.
Here's the latest from Listenable:
LTD EDITION VINYL "CORPUS IN EXTREMIS" OUT SEPT 14th
– Red vinyl (250 copies)
– Black vinyl with red stains (250 copies)
20 Euros shipping included (Europe) . Payment by paypal : sales@listenable.net
Both with one exclusive bonus track! (not on CD version)
SEND YOUR ORDERS NOW!
info : info@listenable.net
So, you can't order the LP from the band but only straight from Listenable or your favorite distro. Enjoy!